What To Bring To Campus 2023
July 7, 2023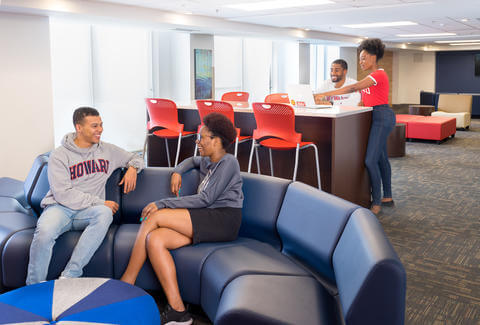 The college experience brings a lifetime of memories, and residence hall movie-in days are filled with plenty of excitement. After all, Howard will be your home away from home and you want to feel comfortable in your new surroundings.
To help you, we have put together a list of recommended items to bring on move-in day. Additionally, we have included things that you should not bring. 
As you review this list, we encourage you to consider ordering some of these items online to save time and money on packing and shipping costs. Many stores continue to offer services for online orders to be picked up curbside or inside the location. 
Also, the weather is likely to remain fairly mild until mid-October. It may be helpful to wait until you return home for fall break to bring bulkier clothing, in order to maximize storage space in your room.
We hope you find this list helpful and look forward to seeing you for the Fall semester 2023.
What To Bring 
Bedding  
Twin-XL Mattress Topper  
Twin-XL Comforter Set  
Twin-XL Sheets  
Extra Blanket  
Pillows   
Desk and/or Floor Lamps   
Bath and Body  
Shower Shoes/Flip Flops  
Shower Caddy  
Personal Hygiene Products  
Electronics
Ear Plugs  
Laptop  
Printer  
Surge Protected Power Strip  
TV  
Streaming or Gaming Devices  
Small Fan
Laundry and Toiletries  
Clothing Hamper  
(3) Towel Sets  
Toilet Tissue  
Paper Towels  
Laundry Supplies  
Cleaning Supplies  
Cleaning Gloves  
Disinfectant Wipes/Spray 
School Supplies
Electronic storage media such as memory cards and USB flash drives
Stapler and staples
Printer paper (if you decide to bring a printer)
Pens and pencils
Pencil holder and sharpener
Notebooks
Folder with pockets
Labels of various sizes
3 × 5 index cards
Sticky notes
Paper clips and binder clips
Rubber bands
Tape
Scissors
Highlighter pens (multiple colors)
Ruler
Stackable desk trays (at least 4)
Stamps and envelopes
Printer 
First Aid  
First Aid Kit  
Prescription Medication  
Prescription eyeglasses and contact lens solution
Thermometer   
Emergency Supplies
Flashlight
Whistle 
Plastic sheeting 
Duct tape
Manual can opener
Extra cell phone charger
Portable power banks
Hand Sanitizer  
Masks  
Plunger
Microwave or Fridge updates:
Due to electrical limitations, in order to have a microwave and refrigerator, residents can only purchase a micro-fridge. 
Microfridge rented from MyFridgeRental .com (Highly suggested)
Microwaves cannot be above 700 watts
Mini-fridges cannot be more than 2.3 cubic feet
Residents cannot have a separate microwave and mini-fridge
Miscellaneous  
Small Safe for Personal Items  
Renter's Insurance (can be purchased from GradGuard ) 
Desk and/or Floor Lamps
Food Storage Containers  
Garbage Can  
Keychain/card holder  
Reusable grocery bags - There is a $0.05 tax on plastic bags in DC** 
What NOT To Bring 
Candles, incense, and fragrance burners 
Command Strips
LED Stick Lights
Non-surge protected extension cords 
Motorbikes and motor scooters
Halogen lamps 
Weapons, including pocket knives, knives in a sheath, spears, swords, souvenir weapons, firearms, ammunition, and BB, air, pellet or paintball guns, tasers, stun guns, expandable batons or impact weapons. 
Chemical mace or pepper spray 
Fireworks 
Illegal drugs, drug paraphernalia, and/or drug manufacturing materials 
Alcohol
Hazardous materials (not including household cleaners) 
Animals (unless you have received written approval from student services) 
Portable/space heaters  
Cooking appliances in non-cooking areas including hot plates, air fryers, crock pots, waffle irons, toasters, toaster ovens, George Foreman grills, sandwich makers and popcorn poppers 
If you have any additional questions about what to bring (or not bring), please contact the Office of Residence Life and University Housing. 
Categories
Housing