Howard University's Office of Residence Life and University Housing Safely Welcomed Students Back To Campus
June 21, 2021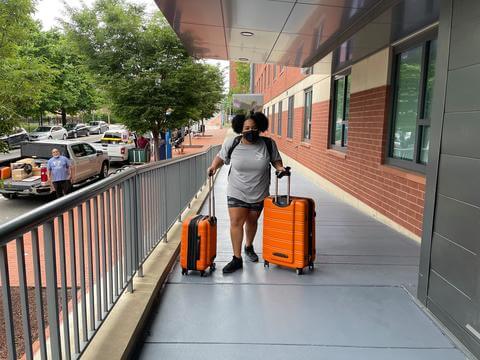 WASHINGTON - Howard University's Office of Residence Life and University Housing safely welcomed students back to campus for Summer Session II from June 12 to June 20, 2021. Students included Karsh Stem Scholars and athletes. 
"We are excited to have our Bison back on campus," said Interim Vice President of Student Affairs Dr. Cynthia Evers. "The Mecca has not been the same without them and we look forward to supporting their academic endeavors and engaging them in a myriad of programs, services, and resources." 
Summer Session II will prepare Residence Life for a more robust implementation in Fall 2021, which plans to bring students back to campus at full capacity. The Office of Residence Life and University Housing is working diligently to put policies and procedures in place that will ensure a safe, fun, and welcoming environment for students. Safety guidelines this summer include single-occupancy rooms, mask wearing, and weekly COVID-19 testing within the residence halls. Directional signage and sanitation stations are available for student use. 
At this time, first and second year students can begin the 2021-2022 housing application process here. Students are required to be fully vaccinated by August 1, 2021 to reside or come to campus for any reason during the Fall 2021 semester. The updated COVID-19 vaccination requirement policy statement can be read in full here.  
### 
About University Housing and Residence Life  
The Office of Residence Life and University Housing is a unit under the Division of Student Affairs that is committed to creating and supporting a rich learning environment in a community of care and mutual respect that will empower students to be engaging citizens through fostering their development of lifelong skills. They provide safe, inclusive, and secure residential communities where a diverse and innovative team of professionals encourages students to pursue academic excellence, personal growth, civic leadership, and responsibility.  
About Howard University  
Founded in 1867, Howard University is a private, research university that comprises 13 schools and colleges. Students pursue more than 140 programs of study leading to undergraduate, graduate and professional degrees. The University operates with a commitment to Excellence in Truth and Service and has produced one Schwarzman Scholar, three Marshall Scholars, four Rhodes Scholars, 12 Truman Scholars, 25 Pickering Fellows and more than 165 Fulbright recipients. Howard also produces more on-campus African American Ph.D. recipients than any other university in the United States.  
Categories
Division of Student Affairs