Welcome from the Howard University Counseling Service
The University Counseling Service (UCS) is a campus resource to support your mental health.
The University Counseling Service provides a variety of services to meet students' mental health needs at Howard University. Currently, we offer virtual or in-person services based on availability. 
At UCS, we direct students to services depending upon their needs, availability and, local and state guidelines on teletherapy and the best standard of care. UCS services include one-on-one sessions with a counselor, group therapy sessions, workshops and referrals for medication management. In some cases, UCS may refer students to providers and resources in the UCS referral network.
Appointments are scheduled by calling our main line at 202-806-6870 weekdays from 8am to 5pm est. During this initial call, an administrator will ask a few questions before setting up your intake appointment. 
To start services, you will meet with a clinician for an initial intake or consultation appointment. This initial interview appointment is used to discuss your needs so UCS can determine the most appropriate services for you. Please plan to spend approximately 45-60 minutes to complete the intake/consultation process at UCS. Virtual appointments are conducted on MS Teams and in-person appointments are held at our office location. Your intake interviewer will follow up with you regarding treatment recommendations, clinician assignments, and/or appropriate referrals. 
Individual counseling provides you with the opportunity to work one-on-one with a counselor. Our counselors, provide a safe and nonjudgmental environment for you to address the issues that are most important to you.
Contingent upon capacity, students receive a maximum of eight (8) individual sessions per academic year. These services may range from short-term individual counseling, group therapy, self-guided interventions, and other treatment interventions as required. We also provide referrals for psychiatric care and medication management if needed. 
The University Counseling Service (UCS) offers a full range of group experiences:
Counseling groups

Psychotherapy groups
Several of the UCS staff members have advanced certification in group treatment and/or extensive group training. UCS has a history of providing groups as a primary treatment modality for Howard students. We offer both time-limited and long-term psychotherapy groups. We also offer time-limited counseling groups addressing general concerns as well as time-limited counseling groups organized around central themes.
Group counseling can help to improve your relationships, can help you learn more about yourself, and can reduce loneliness. Typically, UCS offers several different topics of groups that focus on emotional well-being. 
Members and facilitators are bound by confidentiality.
Evaluation and Medication Management
Currently, UCS clinicians provide referrals for psychiatric evaluations and ongoing management of psychiatric medication. This service is available to all enrolled students. 
Upcoming Events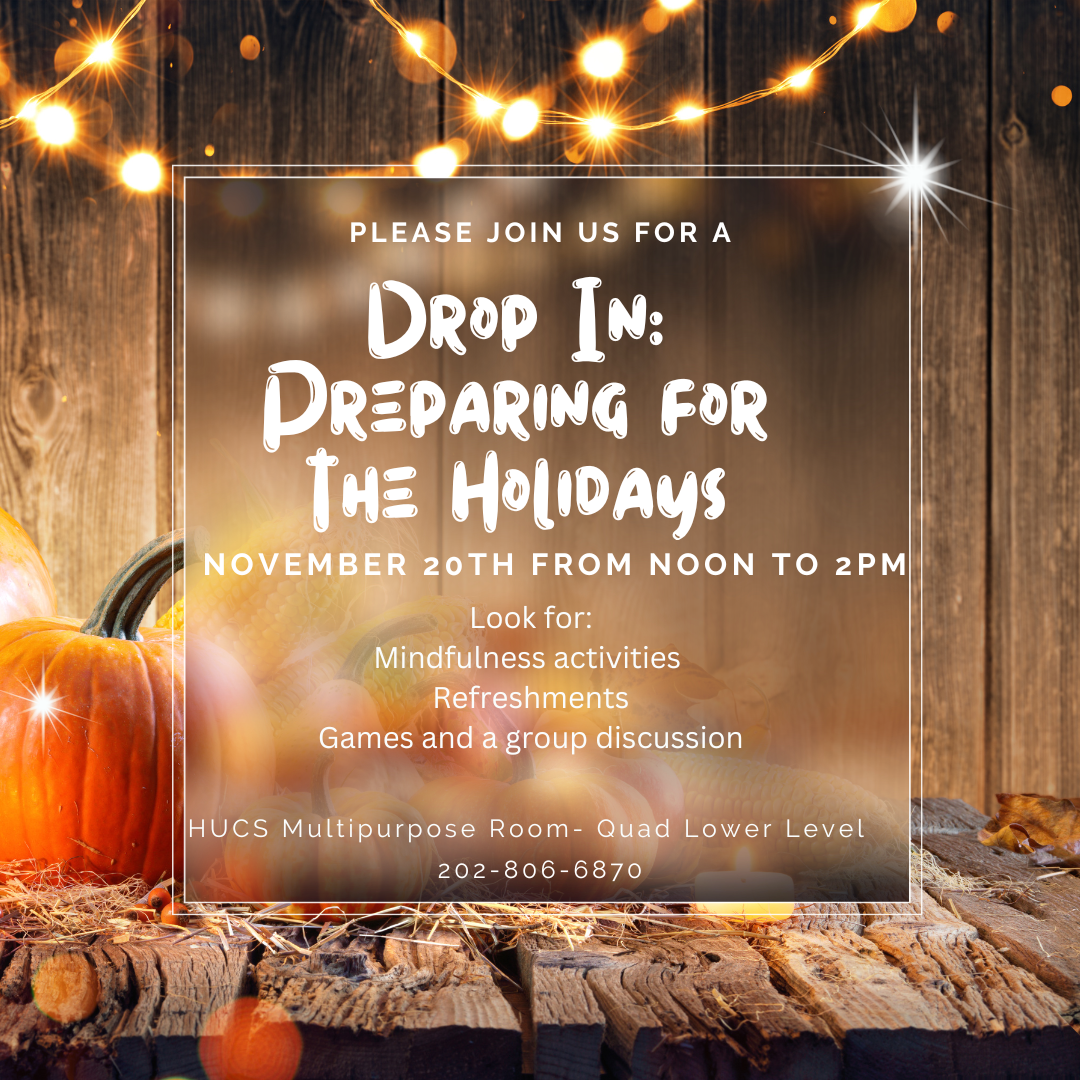 Upcoming Workshops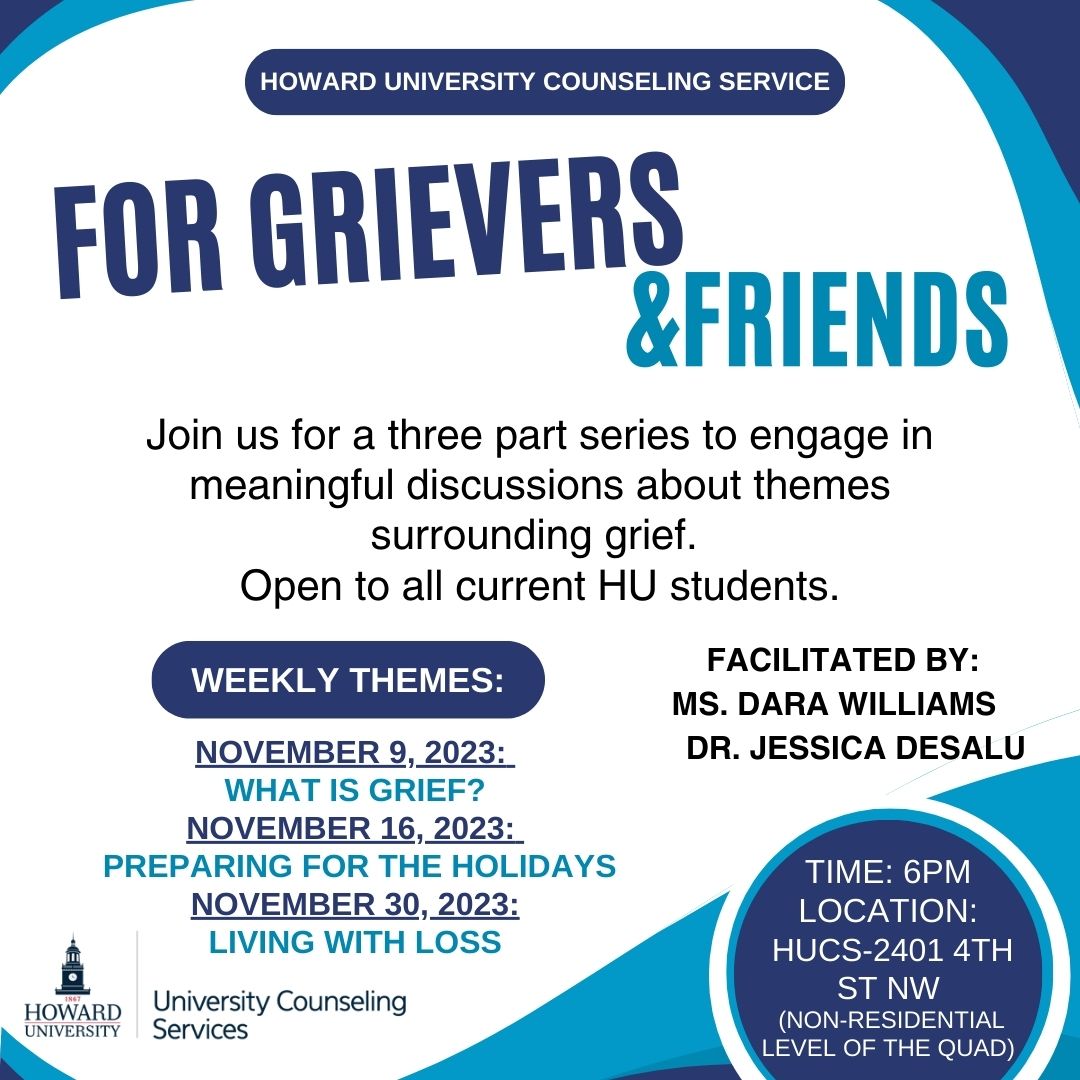 UCS Psychotherapy Group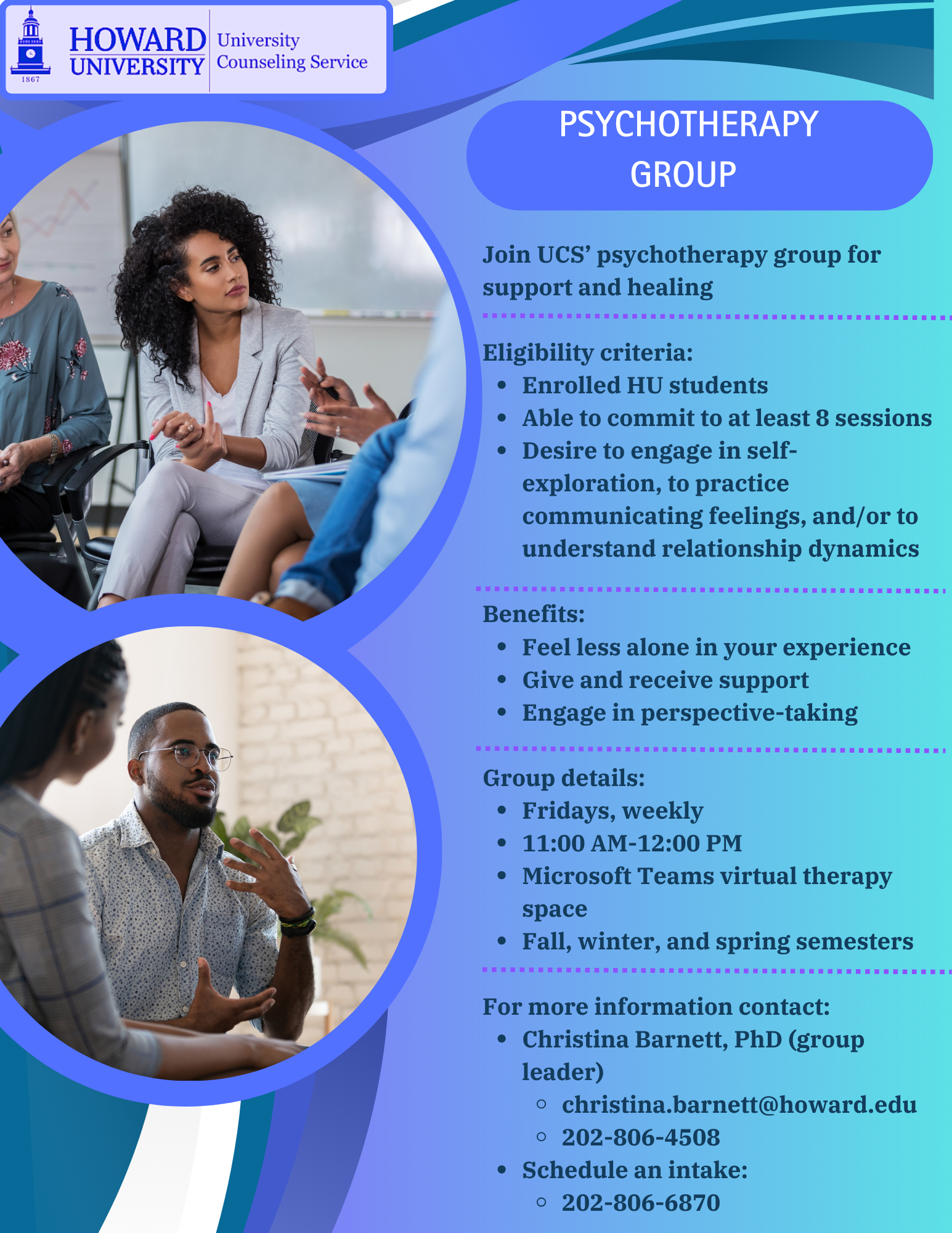 Privacy and Confidentiality
All information you provide during the intake and any future contacts are done voluntarily. What you share will be kept confidential. External referrals will be made with written authorization. Exceptions to this rule may apply in cases where there is imminent danger to you or others, the consistent threat of imminent harm to self or others and past or present child or adult (elderly person/vulnerable adult) abuse. UCS provides clinical training for graduate students in the mental health profession. If you have further questions about confidentiality, do not hesitate to raise them with your intake interviewer.
It is an important and sometimes difficult task. Suggested guides to approach someone whom you feel needs help:
Every year many students, faculty, and staff call or come to the University Counseling Service expressing concern for a student, whether that person is a friend, relative, or roommate.

We recommend that you approach the student you are concerned about in a gentle, caring, and non-judgmental manner and specifically state why you are concerned.

Then suggest that they seek out a professional assessment at the University Counseling Service.

Most often, the student will feel relieved that there is help available and will agree to make an appointment.

If you want to offer extra support, you can have the student call UCS from your office or room, and/or you may offer to accompany the student to the UCS lobby for their initial appointment.

If the person you are concerned about refuses to get help immediately (and it is not an emergency situation), remain friendly and open to the possibility that they may want your help in the future.

Some students may feel ambivalent about seeking help from any source, including the University Counseling Service.

A direct response to such ambivalence can sometimes be helpful: "If your problem can not be resolved at the University Counseling Service, they can direct you to the appropriate place."

If you decide to be more explicit about your concern, feel free to contact the University Counseling Service (202 806-6870) to discuss different options of how to handle the crisis. A clinician will help you to assess the situation and assist your friend:

Proposing possible interventions

Find the best way to make a referral, if necessary

Explore resources internal and external to the University

Clarification of what is going on and how you can be more effective
Feel free to consult with us about any concerns you may have. Call (202) 806-6870 to be directed to a triage clinician.
                                         Howard University Crisis Line                                                                                                                              202 345-6709
The Howard University Crisis Line (HUCS) is an after-hours phone line rotated by the UCS senior clinicians to assist Howard students with mental health emergencies that may occur when our office is closed. The HUCS Crisis Line number is 202 345-6709. This line is available on weekdays after 5pm, on weekends, and holidays. During our office hours, the crisis line is forwarded to our general line 202-806-6870, where a clinician can be reached. 
If you call the crisis line, you can expect the following:
You will be asked to provide your name and student ID so that we can most effectively assist you. If you decline to do so, we will still work to provide the help that you need.

If you are not a current Howard student, our clinicians will provide you with other crisis line numbers.

Our on-call clinician will ask questions to assess your level of safety and help determine if you need emergency services or assistance in remaining safe (e.g., Mobile Crisis intervention, notification of your emergency contact or family member, in-hospital assessment by a psychiatrist).

If you are safe and you need to consult about an urgent mental health issue, our on-call clinician will provide a supportive consultation that may last up to 30 minutes.

 At the end of your consultation, the on-call clinician may encourage you to contact the University Counseling Service for an intake the next day or as soon as you are available to do so.

If you are already in therapy with an HUCS therapist, the on-call clinician will likely inform your therapist about your call so that this can be discussed in your treatment, if needed.

Please note that we are currently equipped to attend to one call at a time. If your call is not answered, please call back 10 minutes later, if possible. You are also encouraged to call or text 988 (number below) or call 911, if needed.
While the HUCS Crisis Line is available to assist with after-hours urgent mental health matters, there are other options available to help meet your needs.
If you are experiencing a life- or-death emergency, please call 911 or go to your nearest emergency room.
If you "just need someone to talk to" OR you have an urgent mental health matter or are feeling suicidal, you can call:
National Suicide Prevention Lifeline: 988 (can call or text)
Emotional Support Animals
The University Counseling Service does not provide letters of support/recommendations for Emotional Support Animals (ESA).
Call Schedule an Appointment
University Counseling Service
202-806-6870 - 8:00 AM to 5:00 PM ET