Housing and Roommate Assignment FAQs
July 27, 2022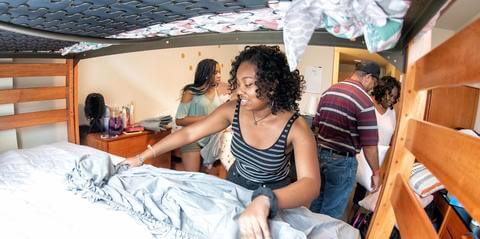 This week, the Office of Residence Life and University Housing shared important information regarding Fall 2022 housing and roommate assignments in order to answer common questions received by our students. Please see the FAQs below and we look forward to seeing you in just a few short weeks! 
IMPORTANT REMINDER: Students must be fully vaccinated by August 1st or their housing assignment will be cancelled. More information can be found via the Bison S.AF.E. website. We also encourage you to visit our blog to view recommended items to bring to campus and our Fall 2022 move-in schedule, which takes place August 8th - August 21st. Further details regarding your move-in time will be sent to your Bison email.
1. WHEN WILL I RECEIVE MY ROOM ASSIGNMENT?
If you completed the housing application and paid the housing fee/deposit by the deadline, please continue to monitor your Bison email for your room assignment.
2. HOW WILL I KNOW MY ROOMMATE?
The room assignment email will state your roommate's name and email address. This will allow you to build a bond and plan for your arrival to your home away from home.
3. AM I GUARANTEED MY ROOMMATE PREFERENCE?
If your roommate request was not approved, we will use your StarRez profile percentage to match you with an appropriate student.
4. WILL I RECEIVE MY HOUSING PREFERENCE?
While preferences are not guaranteed, the Housing team does its absolute best to match students with their preferences. Preferences include residence hall location, room type and roommate. If your listed preferences are no longer available, you will be assigned to the next residence hall with availability. 
Categories
Division of Student Affairs and Housing