The Division of Student Affairs Celebrates Pride Month 2021
June 1, 2021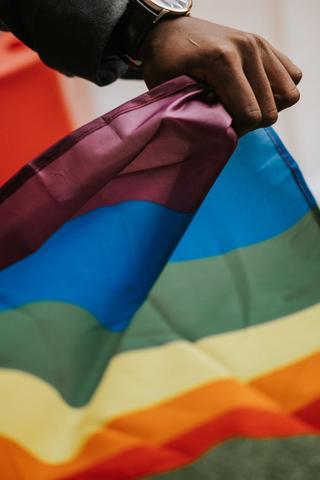 Each year, during the month of June, individuals across the globe come together to raise awareness, celebrate identity, and highlight the achievements of those in the LGBTQ+ community. Howard University is proud to join these efforts by pausing and recognizing the contributions the LGBTQ+ community has made in the world - and at the Mecca.
We salute our LGBTQ+ Bison who inspire us to live up to our nation's promise of equality, liberty, and justice for all. We condemn discrimination and work to advocate for equality. 
Ahead of Pride Month, on May 19, 2021, Howard hosted the Inaugural Lavender Graduation Celebration to honor the achievements and accomplishments of our LGBTQ+ graduates. Members of the Howard University administration, faculty, and staff joined students in a festive celebration. 
The Division of Student Affairs also invites you to attend and participate in an array of virtual Pride Month activities. Several on-campus offices and local organizations will host engaging and educational opportunities for Pride. Please visit us on Twitter and Instagram for more information and to compete for prizes throughout the month. We look forward to having you join us as we honor Pride month and recommit ourselves to inclusion.
Typically, Pride month celebrations include highly populated events such as parades and parties. With COVID-19 guidelines in place, we encourage Bison to participate and celebrate in safe ways.
Excellence in Truth and Service, 
The Division of Student Affairs 
Written By: Assistant Director of Intercultural Affairs Ivory Gaelle 
Categories
Diversity & Inclusion and Division of Student Affairs