6 Tips for Finding Off-Campus Housing
May 25, 2022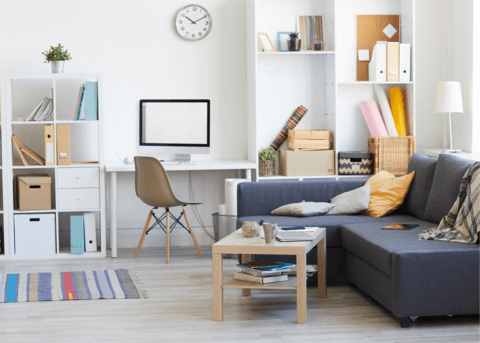 Selecting the perfect off-campus apartment is a huge responsibility, one that should not be taken lightly. Before embarking on your search, we want to ensure that you have the steps, tips, and tools you need to help you find your next apartment home. Read our six tips below and please contact the Office of Off-Campus Housing at offcampushousing@howard.edu if you have any questions as you embark on your search. 
1. Select Your Roommate or Ride Solo
Before selecting an off-campus apartment, you need to decide whether you want to live by yourself or with others.
If you decide to live with others, please ensure that all individuals involved are on the same page regarding living preferences. Are you early birds? Night owls? How often do you like to entertain guests? 
Remember, don't be afraid to ask questions! This will be a home that you all will share for the duration of the lease. If you need additional help, please view this list of questions to ask potential roommates. You can even listen to past episodes of our Dear Roommate Podcast to hear a number of topics our Bison have addressed regarding living with roommates.
2. Determine Your Budget
After determining who (if anyone) you will live with, you need to determine your budget. Understanding what you can afford to pay requires an honest look at your spending and, if necessary, a willingness to cut back to afford housing costs. Additionally, if your parents are paying for the cost of the apartment, they need to be a part of the process from start to finish.
It is recommended that you spend no more that 30 to 40 percent of your monthly income on rent. Please keep this and the following costs in mind when as your finalize your budget:
Security Deposits: Many apartments charge a security deposit to cover the costs of potential damage. They could cost up to a month's rent, so be sure that you have considered this.
Utilities and Amenities: Did you know that some apartments charge extra for utilities and amenities? As you are searching for your next apartment, take note of these fees. Water, gas and electricity are some charges you may see. 
Parking: Do you plan on bringing a car to your off-campus apartment? While some properties do not charge for parking, others do. If parking is an additional fee, you will need to keep this into consideration when budgeting for a new apartment.
Pet Fees: Do you have a pet? Some apartments change residents a pet deposit and monthly fee. Please be sure to factor that potential costs into your budget.
3. Set Your Search Parameters
Once you determine a price range, there are a number of search parameters you should keep in mind:
Location: Location is very important to consider when searching for an apartment. You want to make sure that you are in an apartment building that is secure and its distance is in close enough proximity to public transportation if you don't have a car. If you do have a car, remember to keep in mind parking costs. In all cases, be sure that, especially if you have night classes, that are aware of your surrounding as your are walking to you car, the bus, etc. 
Ask About Amenities: What amenities would you like to see in your apartment home? A fitness center? Business center? Pool? Write down your requests - needs first and wants after - before starting your search.
4. Start Your Search ASAP
Are you planning to move to an off-campus apartment for the Fall 2022 semester? The best time to start your search is now. Peak seasons for off-campus apartment searches generally fall between April and September.
If you wait closer to your desired move-in date, the amount of available apartments could decrease. Starting your search now will allow you to have a wider variety of places to choose from.
So what are you waiting for? Check out our last few tips, then get started.
5. View Listings on Our Off-Campus Website
Howard University, in partnership with Apartments.com, offers a designated off-campus housing website that allows all Bison to create an account, find off-campus housing, a roommate, and view resources about parking, transportation, and more. Howard University or the Office of Off-Campus Housing and Community Engagement is not responsible for any problems or circumstances that may arise when renting properties located on the Off-Campus Partners website or in the housing property listings obtained from the office. We do not screen the property or landlord; therefore, it is your responsibility to inquire accordingly.  
6. Beware of Renters Scams
As you are conducting your search, please beware of rental scams by looking for the signs of phantom rentals (apartments that don't exist) and landlords that manage to get false listings onto reputable websites. If you're asked to send money without seeing the apartments, meeting the landlord/leasing agent, or before you've signed the lease SAY NO and report the scam to the Federal Trade Commission.
We hope these tips are helpful! If you have any questions about off-campus housing, please contact the Office of Off-Campus Housing at offcampushousing@howard.edu. Happy searching!
NOTE: Howard University and the Office of Off-Campus Housing and Community Engagement holds no jurisdiction over the lease you may sign.
Categories
Housing