May 25, 2021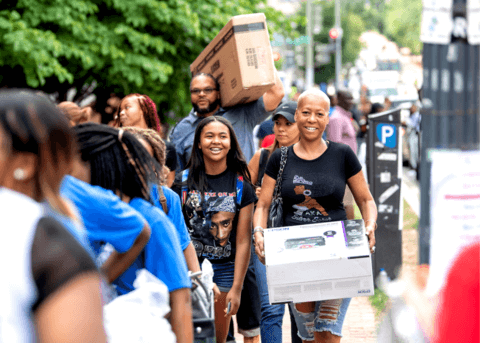 After spending over a year apart, Howard University will be welcoming students back to campus for Summer Session II and the Fall 2021 semester. Can you believe it?
In preparation for this return, we compiled a list of items that you should bring with you to campus. Items you should not bring are listed after. Moving to campus, especially for the first time, can be overwhelming and we want to ensure that you have the tools necessary to make this transition smooth. 
As you are looking at this list, you should consider saving time and money on packing and shipping costs by ordering some of these items online. Many stores, including Best Buy, Target, and Bed Bath and Beyond, allow for online orders to be picked up in stores. 
It is also recommended that you pack clothing suitable for Summer Session II or Fall 2021 - and switch items when you go home.
We hope this list helps and we look forward to seeing you during Summer Session II or Fall 2021! A PDF version of the list, can also be found below.
What To Bring 
COVID-19 ITEMS  
Masks  
Cleaning Gloves  
Hand Sanitizer  
Thermometer   
Disinfectant Wipes/Spray  
Bedding  
Twin-XL Mattress Topper  
Twin-XL Comforter Set  
Twin-XL Sheets  
Extra Blanket  
Pillows   
Desk and/or Floor Lamps   
Bath and Body  
Shower Shoes/Flip Flops  
Shower Caddy  
Personal Hygiene Products  
Electronics
Ear Plugs  
Laptop  
Printer  
Surge Protected Power Strip  
TV  
Streaming or Gaming Devices  
Laundry and Toiletries  
Clothing Hamper  
(3) Towel Sets  
Toilet Tissue  
Paper Towels  
Laundry Supplies  
Cleaning Supplies  
School Supplies
Electronic storage media such as memory cards and USB flash drives
Stapler and staples
Printer paper (if you decide to bring a printer)
Pens and pencils
Pencil holder and sharpener
Notebooks
Folder with pockets
Labels of various sizes
3 × 5 index cards
Sticky notes
Paper clips and binder clips
Rubber bands
Tape
Scissors
Highlighter pens (multiple colors)
Ruler
Stackable desk trays (at least 4)
Stamps and envelopes
Printer 
First Aid  
First Aid Kit  
Prescription Medication  
Cough Medication 
Miscellaneous  
Small Safe for Personal Items  
Renter's Insurance (can be purchased from GradGuard ) 
Microfridge purchased from MyFridgeRental .com
Desk and/or Floor Lamps
Food Storage Containers  
Garbage Can  
Keychain/card holder  
Reusable grocery bags - There is a $0.05 tax on plastic bags in DC** 
What NOT To Bring 
Candles, incense, and fragrance burners 
Non-surge protected extension cords 
Motorbikes
Halogen lamps 
Weapons, including pocket knives, knives in a sheath, spears, swords, souvenir weapons, firearms, ammunition, and BB, air, pellet or paintball guns, tasers, stun guns, expandable batons or impact weapons. 
Chemical mace or pepper spray 
Fireworks 
Illegal drugs, drug paraphernalia, and/or drug manufacturing materials 
Alcohol
Hazardous materials (not including household cleaners) 
Animals (unless you have received written approval) 
Portable/space heaters  
Cooking appliances in non-cooking areas including hot plates, crock pots, waffle irons, toasters, toaster ovens, George Foreman grills, sandwich makers and popcorn poppers 
If you have any additional questions about what to bring (or not bring), please contact the Office of Residence Life and University Housing. 
Written By: Strategic Communications Manager Melissa Simmons
Categories
Housing